Skin types vary greatly from person to person, with characteristics ranging from dryness and flakiness to oiliness and acne-proneness, and sensitive skin. Combination skin is also common, with some areas of the face being oily and others dry. Understanding your skin type is essential for choosing the right skincare products and achieving healthy, radiant skin but how about using a Dry Skin product on oily skin or using an oily skin product on dry skin? Let's find out in this article. 
Understanding Dry Skin & Oily Skin: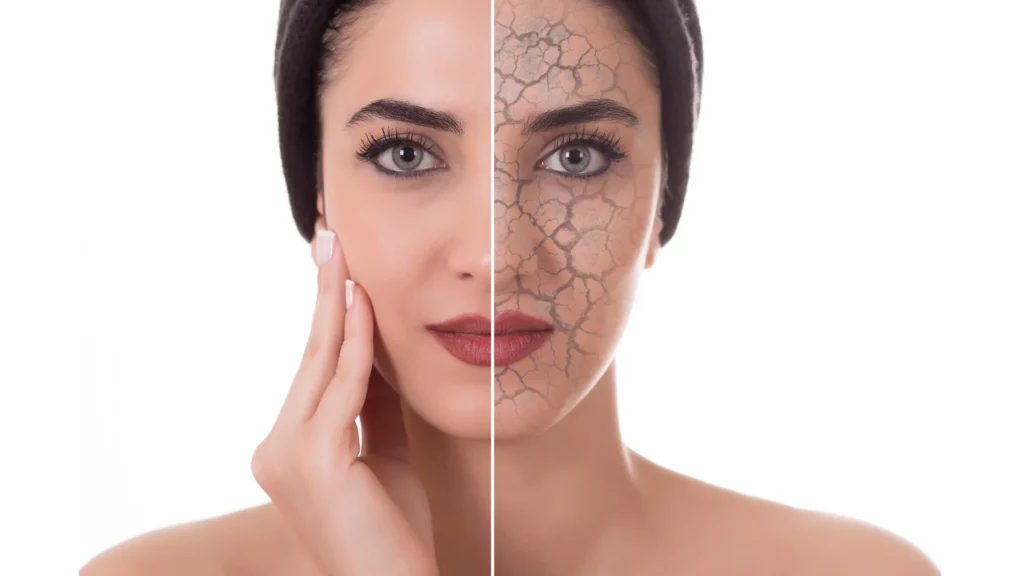 Dry Skin:
If your skin often feels itchy, rough, or flaky, you may have dry skin. This occurs when your skin is lacking in moisture, and can happen for several reasons such as living in a dry environment, not drinking enough water, or hormonal changes. Despite different skin colors, the number of sweat glands we have remains the same, which means we all need equal hydration. So, how can we give your skin some tender loving care? Drinking more water and working up a sweat can help bring hydration to your skin. Additionally, using moisturizing products with emollients can help seal in moisture, leaving your skin looking radiant and supple. 
Remember, hydrated skin is healthy skin, so don't be afraid to give your skin a little extra love and hydration!
Oily Skin:
Oily skin is a skin type that is characterized by an overproduction of sebum, a natural oil produced by the sebaceous glands in the skin. This can lead to a shiny or greasy appearance, as well as clogged pores, acne breakouts, and blackheads. Oily skin can be caused by a variety of factors, including genetics, hormonal changes, and environmental factors such as humidity and pollution.
To determine if the skin is oily, look at the skin. Does it appear shiny or greasy, especially in the T-zone (forehead, nose, and chin)? Does it feel slick or oily to the touch, even after cleansing? Then, you got Oily Skin. Oily skin can benefit from regular cleansing with gentle, oil-free products, as well as exfoliation to remove dead skin cells and unclog pores. Lightweight, non-comedogenic moisturizers can also help to balance the skin's oil production and prevent excessive oiliness
Comparing Dry Skin and Oily Skin: Can we experience both at the same time?
Dry skin and oily skin are two different skin types that result from a combination of internal and external factors. It can get even more complicated since some folks have both dry and oily skin at the same time! Plus, skin types can shift with the seasons – dry in the winter, oily in the summer. We need to understand the differences between these skin types and recommend products tailored to each one so that we can suggest appropriate products. 
Dry Skin or Oily Skin, which is better? Does oily skin makes skin look more younger?
Skin pigmentation plays a role in determining how the skin functions and appears. Despite having the same number of sweat glands, highly pigmented skin is not necessarily more prone to dryness. In fact, melanin-rich skin is naturally more hydrated and plumper, thanks to more casual lipids and moisture in the stratum corneum. Additionally, the dermis of darker skin is thicker and more compact, leading to less noticeable facial lines and wrinkles. This also gives richly pigmented skin a more youthful appearance. Regardless of skin type, whether it is melanin-rich or not, dry or hydrated, and with varying levels of oil production, choosing the right skincare products with suitable active ingredients is essential for maintaining healthy and radiant skin
Let's get to the Point: Can I use Dry Skin product on a oily Skin?
As mentioned in the first paragraph, it is possible to have dry skin on one part of the face, and Oily Skin on the other part of the face, the combination skin is also quite common. Most Skincare products are suitable for different skin types. Choosing the right Skincare Product and the right Skincare Routine can be a crucial process in determining your overall skin health, and its radiance. Some people even change their regime with the weather(Summer Skincare & Winter Skincare, are quite famous terms) which makes it obvious on choosing the right product and a right skincare routine. 
It's best to opt for a gel-based cleanser that produces a light foam. When choosing serums, opt for oil-free options that absorb quickly into the skin. Instead of clay masks, go for aloe or hyaluronic acid-based jelly-like masks that will not add excess oil to the skin. A light-weight moisturizer can be applied sparingly to avoid overwhelming the skin, and a moisturizing toner that can be spritzed on throughout the day is a good option to keep the skin hydrated without adding extra oil.
Can I use Oily Skin Product on a Dry Skin?
When it comes to oily skin, it is best to opt for products that are specifically formulated for this skin type. Oil-based products, especially cleansers, work best on skin that is not already oily. Since oily skin is more prone to breakouts, it is important to avoid using products containing highly comedogenic ingredients that can clog pores and contribute to acne. Although some of these ingredients are safe for dry skin, it is best to steer clear of them for oily skin to prevent further breakouts. These include Shea Butter, Acetylated Lanolin, Almond, Avocado, and Wheat Germ Oils, Lauric Acid/Coconut Oil, and Isopropyl Myristate. It is best to opt for oil-free products that are specifically formulated for oily skin to prevent breakouts and keep the skin healthy.
The most important one: Equilibrating Dry Skin & Oily Skin
Both dry and oily skin types require regular cleansing and exfoliation. Exfoliating is crucial to remove the build-up of dead skin cells, allowing active ingredients to penetrate the skin and do their work. A toner can then be used to remove excess oil or add extra moisture to the skin, depending on its needs. To achieve balanced skin, it's important to choose a toner with ingredients that address your specific concerns. When moisturizing, it's best to use the "spot treatment" method. This means using a medium-weight moisturizer under the eyes and a lightweight lotion over the rest of the face, instead of applying a heavy moisturizer all over the face. If you have particularly dry skin, a serum can be layered under your moisturizer for added hydration.
Make your Skin Care Regime with Adamo Skincare
Adamo Vitamin C Serum:
This outstanding formulation contains L-ascorbic acid which is the most potent and effective form of vitamin C. It absorbs easily, providing unparalleled antioxidant protection. Vitamin C contains brightening benefits that immediately illuminate dull skin. Over time, drastically improves the look of uneven skin tone for a perfectly uniform complexion. Each ingredient is used in its most effective form, this formula absorbs fast and is super-lightweight in texture. Suitable for both Dry Skin and Oily Skin. 
Adamo Soothing Milk Cleanser:
Each ingredient of Adamo Soothing Milk Cleanser are used in its most effective form. Coconut oil and Coconut fruit extract are rich in natural vitamins and antioxidants. Coconut oil deeply moisturizes, while coconut fruit extract helps to soothe the skin. Chamomile helps to support the skin's natural recovery process, while safflower oil provides potent antioxidant benefits.
Adamo Detoxifying Charcoal Mask:
Adamo Skincare Detoxifying Charcoal Mask contains advanced Activated Charcoal formula that absorbs impurities, excess oil from the face and cleanses the face providing a fresh and glow to the face. 
Whether you're struggling with oily skin, dry skin, or a combination of both, we have a range of products designed to meet your unique needs. Our cleansers, serum, moisturizers, and masks are made with only the best ingredients. We believe that everyone deserves to feel confident in their own skin, and our products are designed to help you achieve just that. Get in touch with our dermatologists to choose the right skincare routine for your skin!!